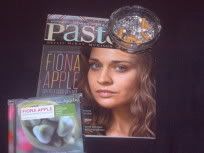 Extraodinary Machine shows more than promise..
It shows Fiona..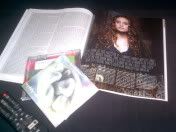 You may have been waiting for this album to release, you may have been taken by pleasant surprise. Either way there is much to be had from "Extraodinary Machine" whether you are ready for it or not.

Like Tori Amos and Bjork ( who would have seen the connection there?) Fiona's albums are sharing the same kind of evolution in music. All three artists' began with an 'everyone can relate to this' debut, but quickly moved on into more personal expressions, ideas, feelings, experiences, and of course sounds. There is no doubt that Fiona can sing but what she has done beyond that is find more personal things to reveal as she sinks deeper into her own apple.

Gone are the confessions of bad ideas and welcomed are the notions of objectivity, insight, a definitive lexophilia ( obsession with words) and perhaps even a literary notion that this time, this life, this feeling was song worthy as a gift.

You can listen to the album and hear some magical connections, some good advice, and something bigger happening..

"Extraodinary Machine" sequals in some respects "Enter the Pawn" but not to fear the attitude has changed. You get the impression that she has found a kind of melody that makes writing and performing more unified but you also get the feeling that the good old rowdy Fiona we discovered in "Tidal" is far from gone.

With what appears to be strategically loaded Edamame on the 3/4 shell for the cd jacket, I had to wonder why is that so few celebrate the accomplishment of being able to write about oneself in such a way as Fiona does it? Total self endulgence that anyone can identify with - the kind of talent that challenge the measure of talent.

In a recent article exploring the evolution of her third release by Chi Tung for 'Paste Magazine', Fiona confesses to being a "dramatic person" born under the sign of virgo I wondered - would the universe have it any other way?

Another interesting biographical/autobiographical moment in the interview reads," Thankfully, Apple doesn't suffer from the illusion that artistst are the last bastion of everyman (everywoman?) sensitivity. She'll speak her piece but no one else's.

["I think it's still ego-driven for me, but I'm not worrying about people thinking I can write a really good song' I'm worried about people listening to me andknowing how I feel..and that doesn't even make sense to me, a lot of the time.. It's definitely ego-driven. I don't think I'm a selfish person, but I'm very, very self centered..You look at the facts of it- I write about myself and how I feel about things, and then I get a bunch of people to sit in the dark while I stand in the light, and they quietly listen. That's gotta be really ego-driven."]

"I don't see myself as a tortured artist or person. But it makes sense that I'm seen that way." - F. Apple

All I can say is.. Soup is in fact good food and age on a woman is something more intriguing than mere reinvention.

It's a new Fiona; It's a new album; it's an old story.

Score: 5
rating range 1-5
1. extrodinary machine 5
2. get him back 5
3. o'sailor 5
4. better version of me 5
5. tymps (the sick in the head song) 5
6. parting gift 5
7. window 5
8. oh well 5
9. please please please 5
10. red red red 5
11. not about love 5
12. waltz (better than fine) 5


Samples of: "Extrodinary Machine", "O' Sailor",& "Window"
Link